Quick Links: | SPP home | About the SPP hub | Get involved | Resources | Facebook |
---
Health, Safety and Risks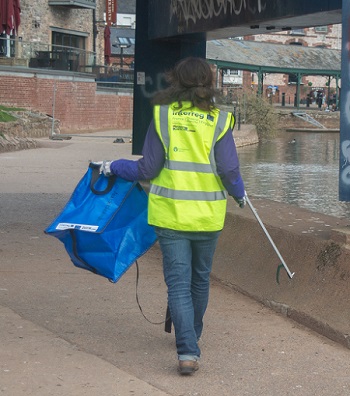 There can be lots of health and safety issues to consider when undertaking litter picks by water. Some are general good practice and other are more specific to being in a river or coastal environment. This page highlights some of the key considerations and provide links to information. The Preventing Plastic Pollution project has some great basic health and safety guidelines. Litter Free Dorset have produced a 'safety talk' leaflet that gives advice on safety concerns before undertaking a litter pick.
Risk assessment
You must have an appropriate risk assessment for litter picking in place. You can download an example Litter pick risk assessment form. The Rivers Trust have produced a sample completed risk assessment form that you can view.
Public liability insurance
Litter picking groups should have public liability insurance and it is the organiser's responsibility to ensure that adequate cover is in place. It will provide cover for any legal liability arising from accidental damage or injury (to a member of the public or their property) that may occur during the event. Many groups already have relevant cover e.g. educational institutions or groups that are part of a larger or national body, but, if not, you should contact your local council whose insurance may cover you. If your group already has public liability insurance, but is new to litter picking, it is your responsibility to notify your insurer of a new activity and satisfy yourself that you have adequate cover.
Photo/filming consent
If you plan to take and share any photographs of participants at your event, please ensure they have provided consent for their photos to be shared with the public. We suggest collecting signed photo consent forms from your participants to evidence this. The Preventing Plastic Pollution project has a photo consent form that you can download to use.
Covid-19
Please follow any current national and local government guidelines on lockdown restrictions, self-isolation and social distancing measures. You can find the latest information about what you can and cannot do at gov.uk/coronavirus.
Coastal and river hazards
If you are litter picking at the coast always check the tides and weather conditions before beach cleaning. If your location has a harbour authority they will be able to advise on safe access points and how to avoid potentially dangerous locations like mudflats. The Canal and Rivers Trust has lots of safety advice when being around rivers and the RNLI has coastal safety information.
Emergencies
Always take a charged mobile phone and check that you know your exact location before you start. In an emergency phone 999/112 and ask for the 'Coastguard' or 'Police.'
---
---
---